MEDICAL SERVICES
The kidneys play a vital role in keeping you healthy. Think of the kidneys as the thermostat that keeps you comfortable. When the kidneys get sick, it affects the rest of  your body and many of your vital functions will begin to malfunction.
CHRONIC KIDNEY DISEASE
ACUTE KIDNEY INJURY
GLOMERULAR DISEASE
HIGH BLOOD PRESSURE (Resistant Hypertension)
INTRINSIC KIDNEY DISEASES
– Diabetic Nephropathy
– Hypertensive Kidney
Disease
– Glomerulonephritis and
Chronic Pyelonephritis
KIDNEY STONES PREVENTION
ACUTE KIDNEY FAILURE
PROTEINURIA (Protein in the Urine)
HEMATURIA (Blood in the Urine)
ANEMIA RELATED TO KIDNEY DISEASE
BONE DISEASE RELATED TO KIDNEY DISEASE
FLUID AND ELECTROLYTE DISORDERS
SCREENING FOR CHRONIC KIDNEY DISEASE
MICROALBUMURIA
Your kidneys are designed to keep all your proteins in your body. The earliest sign that your kidneys are sick is the leaking of protein into your urine. We can order a special urine test to determine if you are leaking protein into your urine.
SERUM CREATININE
We can do a simple blood test that measures the amount of muscle break down products in your blood. The higher the number the more likely you have Chronic Kidney Disease (CKD).
eGFR
A computer generated mumber that takes your blood creatinine level and using your age, race, and sex, gives you a percent function of your kidneys. A number below 60 could mean that you have Chronic Kidney Disease (CKD).
COMPLICATIONS DUE TO KIDNEY DISEASE (CKD)
ANEMIA
The Kidneys make a hormone called erythropoietin (EPO) which travels to your bone marrow and switches on the production of red bleed cells. As the kidneys functions decrease, the amount of EPO produced decreases and you make fewer red blood cells. Red blood cells are measured by a test called Hemoglobin (Hgb). When your Hgb drops below about 12, you are said to have anemia. Symptoms of anemia include fatigue and shortness of breath. You usually start to notice these symtomps when your Hgb drops below 10 or 11.
ACIDOSIS
Your body normally produces acid. One of the jobs of the kidneys is to produce base to buffer the acid and keep the body in a neutral state. As the kidneys get sicker they are not able to produce enough base and you become acidotic. The symptoms of acidosis can include: tired feeling, headache, shortness of breath, pressure and high glucose.
FLUID BALANCE (edema)
Your kidneys are responsible for keeping your fluids in balance. When you are in the hot sun the kidneys retain most of your water and you make very little urine. This keeps you from becoming dehydrated. When you drink a lot of fluids the kidneys make a lot of urine so that you do not retain the extra water. When the kidney function declines they lose the ability to make urine and you retain extra water in your body. You first notice the extra water in your feet when you stand for a long time. As you continue to retain water your legs reomve progressively more swollen. Finally, the water builds up in your lungs and you become short of breath.
BONE MINERAL METABOLISM (Vitamin D and Secondary Hyperparathyroidism)
Your kidneys are central to making the active form of Vitamin D. Vitamin D is important in many of your body functions. Vitamin D is very important in the regulation of your parathyroid glands. The parathyroid glands make a chemical called PTH which regulates your blood calcium and has major effets on your bones. When the kidneys fail you can develop bone pain and fractures. Also, calcium can be deposited in places in your body where it is not supposed to be, such as your heart valves and arteries, and might increase the risk of a heart attack.
HYPERKALEMIA (too much potassium) and HYPERPHOSPHATEMIA (too much phosphate)
Your kidneys regulate the amount of potassium and phosphate in your blood. As the kindey function declines, you build up to much potassium and phosphate in your blood. Too much potassium causes muscle weakness and can cause the heart to stop beating. Too much phosphorous interacts with Vitamin D, calcium and PTH to cause bone and heart problems as described above under "Bone Mineral Metablolism".
HYPERTENSION
The kidneys help control blood pressure in 2 ways – volume and chemicals. Think of a garden hose. When it is full it has a lot of pressure, but when it is empty there is little pressure. When the kidneys get sick they cannot get rid of water properly. You retain water, which you will see in your legs, and feel in your lungs. The extra water is also in your blood vesssels and this causes an increase in your blood pressure.
The kidneys also make chemicals that cause your blood vessels to clamp down, raising your blood pressure.
The combination of too much water and too many blood vessel constricting chemicals causes most patient with CKD to have high blood pressure. This is a vicious cycle because high blood pressure causes more kidney damage, which causes more fluid retention and more blood vessel constricting chemicals, which cause high blood pressure, and so the Merry-Go-Round keeps going around…and the kidneys get sicker. 
UREMIA
The main function of the kidneys is to clear waste products from your blood. As the kidneys fail, waste products build up in your body, and when your kidney function is down to about 10-15% you start to notice symptoms, which can include: nausea, vomiting, food does not taste good, fluid in our legs, shortness of breath, itching and problems thinking.
If your kidney function should decline to an eGFR (a measurement of kidney function) of less than 15% for diabetics and less than 10% for other patients, you will need some form of renal replacement therapy. That means you will either need a kidney transplant or dialysis. There are 2 types of dialysis – hemodialyisis or peritoneal dialysis.
THE NATIONAL KIDNEY FOUNDATION
AMERICAN SOCIETY OF NEPHROLOGY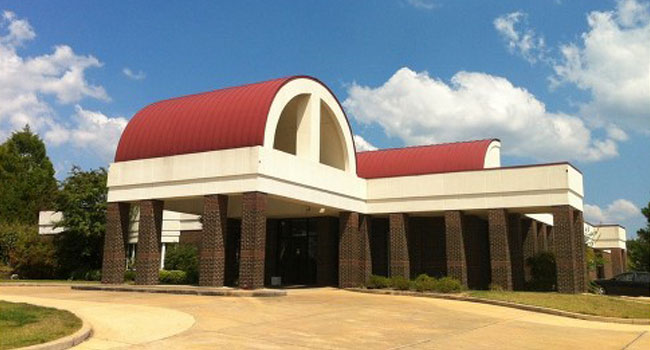 TUPELO, MS LOCATION
1542 MEDICAL PARK CIRCLE, TUPELO, MS 38801
PHONE: 662-844-4711   |   FAX: 662-844-9619
TOLL FREE: 1-866-344-4711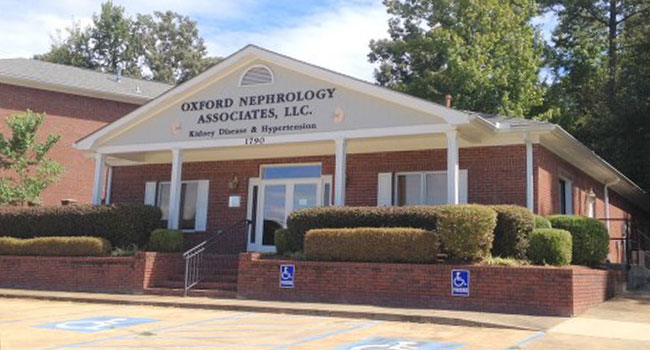 OXFORD, MS LOCATION
1790 BARRON STREET, OXFORD, MS 38655
PHONE: 662-236-2900   |   FAX: 662-236-2922